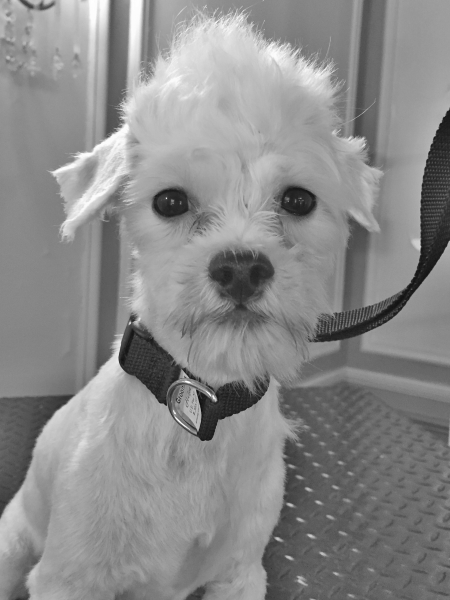 Hi, I'm Michele, and I am a lifelong dog lover dedicated to providing a holistic grooming experience for your and your dog. Grooming is not just a bath and a haircut. Every dog is unique in body and mind and should be treated in a way which benefits both. I want every dog, even the most nervous ones, to experience that grooming can be painless and soothing.  I love grooming rescue and shelter dogs to give them comfort and a chance at a new home. Grooming is part of a good healthcare plan, and it offers an opportunity to express your style.
          Why Choose Dapper Dog Grooming?
* Convenient! Flexible scheduling, appointments available 7am - 5pm daily.
*Straight forward pricing posted on this website.
*Private & Quiet! No other people or dogs around during grooming
*Low stress! Great for dogs with other dog aggression, senior, or nervous dogs.
*Patient, gentle encouragement along with positive rewards.
*Soothing Music for your dog! Playing during grooming from Through a Dog's Ear
*No kennels or cages! Every dog gets undivided attention from start to finish.
*No cage dryers! Every dog hand dryed
*Only cruelty -free products used on dogs or for cleaning!
*Natural or organic products used to clean, and soothe your dog's body.
*Aromatherapy used to calm nerves or uplift elderly dogs
*Refer-a-friend, birthday, and other ongoing specials!